Northland creative technology studio, AwhiWorld, is launching a new project to provide free coaching, mentoring and training for selected local digital artists. The aim is to raise the profile of the innovative local arts scene and connect to national and international networks. Open to anyone living or working in the region, the online expression of interest for the Awhi Incubator runs from 6th April – 24th April, and interested practitioners can apply via the link below.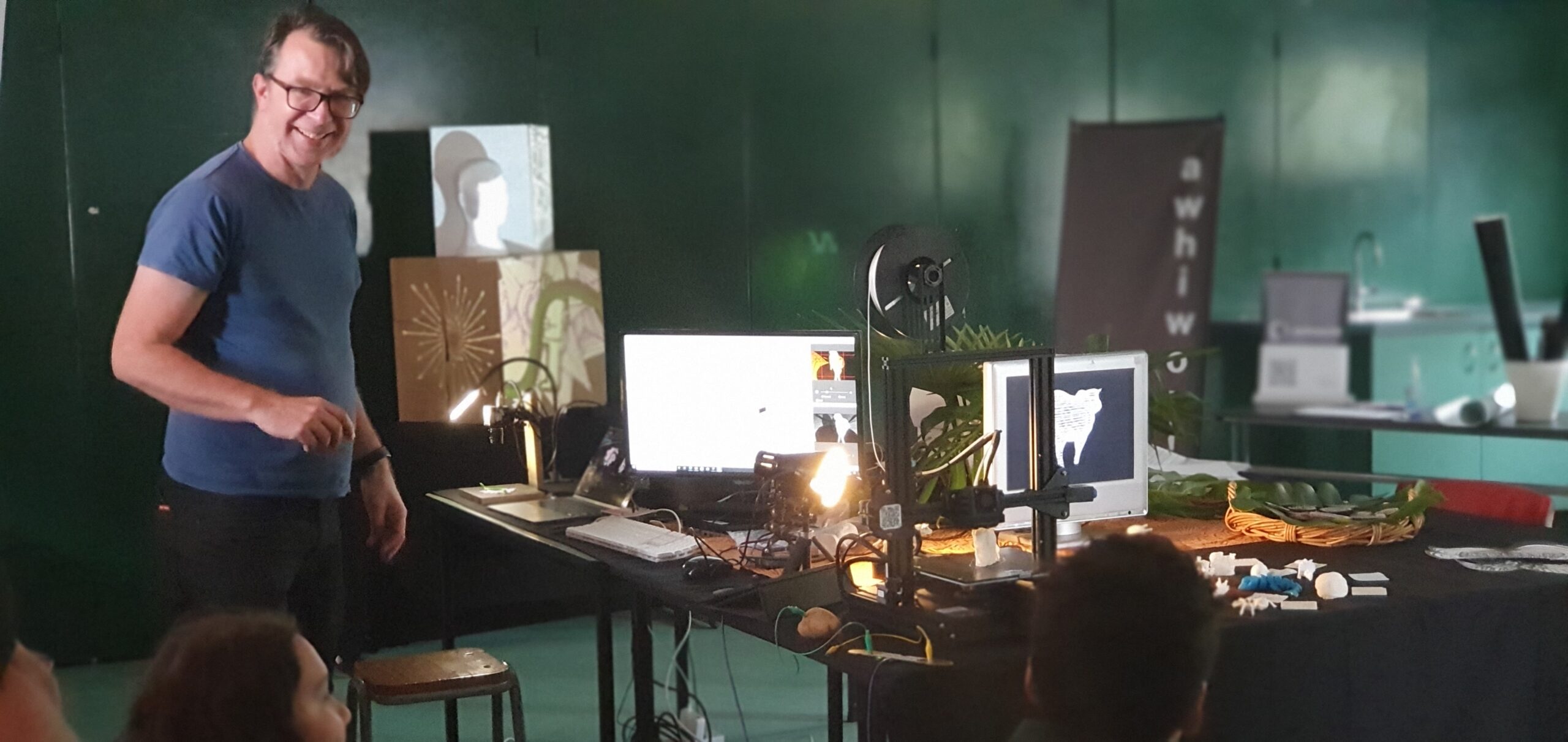 Limited places are available, and all applications will be peer-reviewed by Te Tai Tokerau art and technology experts to ensure fairness. From June, the successful cohort will begin 12 months of intensive one-to-one coaching with project directors Dr Maggie Buxton and Kim Newall, plus a wide array of experts. They will also attend specialist workshops and group networking sessions and have the chance to showcase their work via publications and labs. Augmented and virtual reality, sensor-based interactive installations, projection mapping and e-textiles are just some of the areas that can be supported – as well as coaching on marketing, IP and funding skills.
AwhiWorld has a strong track record of working with creative technologies at a community level. The studio has run multiple pop-up innovation labs and training workshops around Te Tai Tokerau and created many installations – often in collaboration with local community groups. Buxton has a PhD focusing on Augmented Reality and Geo-Locative Mobile, while Newall has a Master's in Creative Technology, together with a strong background in live performance using emerging technologies. Both worked at AUT's innovative interdisciplinary unit, Colab, before moving to the region six years ago.
The Ministry of Culture and Heritage's Innovation Fund provided the resources for the project. In addition, several groups are officially partnering with AwhiWorld to support the Awhi Incubator, including local arts organisation Creative Northland and national organisations Circuit and Aotearoa Digital Arts (ADA). International group SEADS is also partnering on the initiative and is currently working with AwhiWorld on a project to be unveiled in May.
Olivia Garelja, general manager of Creative Northland, expressed her excitement at becoming involved in the Awhi Incubator. "This will be a game changer for practitioners who traditionally have fallen between the cracks for professional support and are struggling in the current economic climate. It also showcases the amazing array of talent we have up here to the rest of the nation."