The Quest Art Space is a not-for-profit community art space managed by Creative Northland for Quest Hotel Whangarei. You can find the Quest Art Space in the walkway between Bank Street and Farmers. Anyone can freely walk through and see regular exhibitions from local up and coming artists.
This space is aimed to provide emerging and mid-tier artists with the opportunity to showcase their work for free with their choice of selling work to the public. If a sale is made Creative Northland takes a 20% commission to cover managerial costs.
If you are interested in having an exhibition or being a part of a group show at the Quest Art Space please email olivia@creativenortland.com
Follow Quest Art Space on Facebook for news and updates about current and upcoming exhibitions.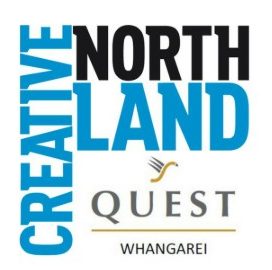 Location
Walkway to Quest Art Space Open daily 9am-4pm 58 Bank St, Whangarei, 0110 The Quest Art Space Whangarei is located in the walkway between the corner of Bank St/Cameron St and Farmers .